The Adiyogi statue, 2 feet 5 inches in height
Free shipping above Rs 950
Within 24-48 hours Fast Dispatches
Product Details
Statue dimensions (in inches)
Length: 36
Breadth: 20
Height: 27
Weight: 58.1kgs
Description
A symbol of stillness
The many forms of dynamism
The very first yogi, the Adiyogi.
"The significance of Adiyogi is that he provided methods to evolve human consciousness that are relevant for all times." – Sadhguru
Of dreadlocks and copper earrings, this Adiyogi statue is the exact replica of the 112ft bust of the Adiyogi in the Isha Yoga Center. Adorned by a Rudraksha mala with consecrated beads, this statue has an elegant appeal. Needing no rituals or processes, this bust statue provides an opportunity to be available to the grace of the Adiyogi in the comfort of your own home
The Statue
The Bust : The bust of the statue is made of aluminum, which makes it sturdy.
The Accessories : The crescent moon, the earrings and the serpent around the Adiyogi's neck are made of copper, which gives the statue an elegant appeal.
The Rudraksha Mala : The beads of the Rudraksha Mala worn by the Adiyogi are consecrated in Dhyanalinga
Top
How to care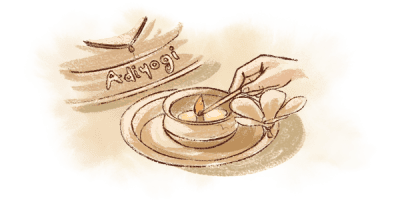 1.
You can daily light a lamp in front of the statue
2.
This statue does not require any rituals or processes
3.
Wipe with a clean dry cloth